Overview
Located on the island of Zamalek, the lavish Cairo Marriott beautifully incorporates a former Royal Palace with a modern hotel complex whose distinctive central location provides a spectacular view of the Nile and the city. The hotel also offers commodious event venues for a myriad of occasions, making the destination ideal for weddings, conferences and international business trips. The hotel has the following restaurants, eateries and hangouts: Ristorante Tuscany, Saraya Gallery, Garden Promenade Café, Egyptian Nights, Roy's, Torii Restaurant, The Bakery, Harry's Pub, Billiard Bar, Garden Promenade Café, Omar's Café Restaurant, Lobby Bar, Waves Snack Bar, and Executive Lounge. For leisure you can enjoy the pool, gym and spa facilities at Saray Spa. It also boasts a wide variety of conference and meeting rooms facilities and ballrooms.
See translation
يقع فندق ماريوت القاهرة فى الزمالك حيث يجمع بين الملكية و الحداثة، ويتميز بإطلالة رائعة على النيل. يوفر الفندق أيضًا أماكن مناسبة للحفلات، مما يجعله وجهة مثالية لحفلات الزفاف والمؤتمرات ورحلات العمل الدولية.
Hide translation
Facilities
Health Club / Spa
Conference Rooms
Squash Court
Tennis Courts
Swimming Pools
Casino
Offers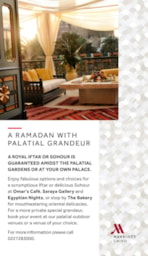 RAMADAN WITH A GRANDEUR FEEL!
Making your Ramadan dining as royal as always whether at the palace or at the venue of your choice is guaranteed. Let the Cairo Marriott team of experts do the catering for a hassle free night starting from setting up to choosing from an array of delicacies, live cooking stations and mouthwatering dishes.
Omar's Café
is ready with a scrumptious Iftar buffet featuring an array of Ramadan specials. Craving a more Royal ambiance, it is for sure with the delectable choices of
Saraya Gallery
for the most rewarding experience of mind, soul and appetite.
Egyptian Nights
is fully loaded with the most delicious dishes for Iftar and Sohour. Stop by
The Bakery
for mouthwatering Oriental delicacies with a twist that will leave you craving for more.
For more information please call
0227283000
.
for details
Location & Contacts
---
Openning Hours