Overview
Deals is a well-known hangout spot that boasts decent cocktails, good food and reasonable prices; despite usually being pretty crowded. Yet, It is undoubtedly a classic that guarantees a laid-back gathering with friends over some good old drinks.
See translation
يعتبر مكانًا معروفًا يضم الكوكتيلات اللذيذة والطعام الجيد وبأسعار معقولة. على الرغم من عادة ما تكون مزدحمة جدا ، ومع ذلك فإنه بلا شك كلاسيكي يجمع الأصدقاء مع بعض المشروبات القديمة الجيدة.
Hide translation
Offers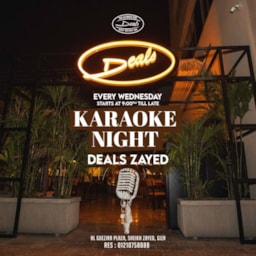 Karaoke Night at Deals Zayed
Every Wednesday, enjoy a Karaoke Night at Deals (Zayed Branch). Karaoke starts at 9:00 PM. For reservations, call 01210758888.