Overview
This hotel is located in a very quiet spot on the island of Zamalek, the most prestigious district in Cairo, where nightlife entertainment and the city's famous landmarks are minutes away. The hotel provides sumptuously decorated rooms and suites with modern amenities to ensure guests' comfort. Business amenities include banquet facilities and meeting rooms for small groups, while guests may also enjoy Hilton's renowned health club, which offers a wide range of massage services, sauna and steam room. The hotel is famous for the brilliant hospitality of the staff.
See translation
يقع هذا الفندق في مكان هادئ جدًا بجزيرة الزمالك و يوفر غرف وأجنحة مزينة بشكل فاخر ، و قاعات للحفلات وغرف للاجتماعات الصغيرة و يحتوى على نادي صحى حيث يقدم المساج والساونا وغرفة بخار.

Hide translation
Facilities
Health Club / Spa
Conference Rooms
Swimming Pools
Offers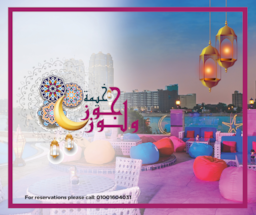 jawz w luz tent
Feel the magic of Ramadan on the Nile at our elegant in-door and out-door venue, جوز و لوز tent offers daily Iftar overlooking the Nile and a lavish à la carte Sohour menu while enjoying our nightly oriental music and don't miss playing one of our oriental games.
For reservations please call: 01001604031
for details
Location & Contacts
---
Openning Hours